Brian Matthew has been dropped as the regular presenter of Radio 2's Sounds of the Sixties, a programme he has 'owned' since 1990. I say 'owned' because he is a significant ingredient in the whole idea. He was part of that music revolution from the late 1950s through the 1960s. He has interviewed most of the legendary names on other shows that are synonymous with him and his wonderful, warm voice - Saturday Club on radio and Thank Your Lucky Stars on TV to name two. In 2006, he was honoured with a Sony Gold Award, and rightly so.
In British broadcasting terms, for a generation or two, he really is a radio legend. He is 88. For a few recent months, he has been off work for health reasons and, maybe, the BBC saw an opportunity to make changes.
The official statement from the BBC: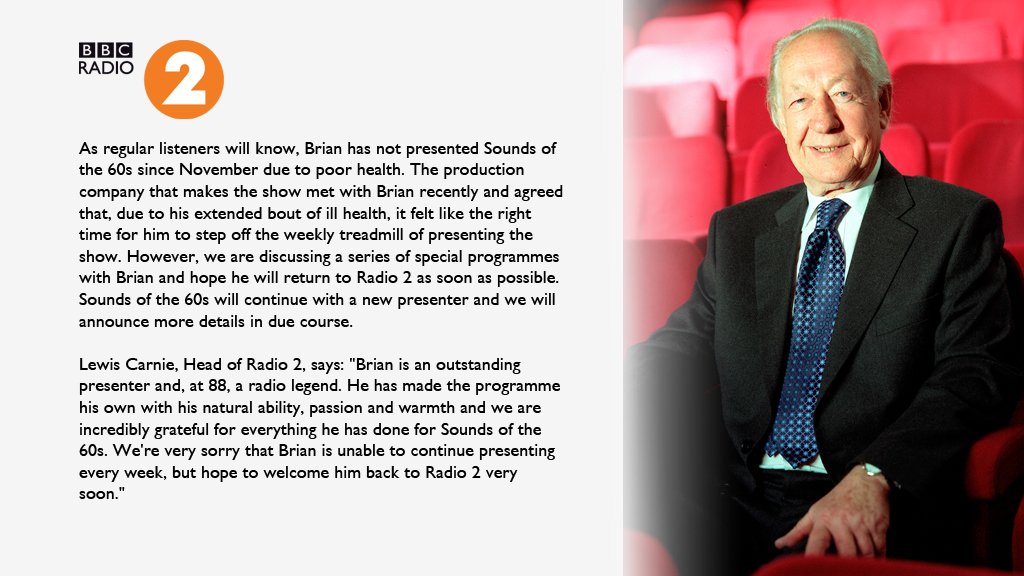 In amongst the praise there is more that a whiff of bullshit. "It felt like the right time for him to step off the weekly treadmill...." Who decided that? Not Brian Matthew by accounts. He is reported to have responded thus to the decision and the 'right time' crack:
"That's absolute balderdash. I was ready and willing and able to go back, and they've just said they are going to put the programme in the hands of other people.
I didn't really have much in the way of ill health. I had a collapse at home at the bottom of our stairs, and my wife called the ambulance service. They came and examined me and said it was a matter for appraisal at the hospital. They put me on a ward, I stayed there for a while and now I'm back at home.
I enjoyed doing the show very much indeed. I did it for 25 years. I feel very disconcerted, I must say. I do admit I'm a bit of an antique, but that's never seemed to matter until now."
He described the BBC's decision as "horrible" and it is. I find it very upsetting as a listener but also as someone who has grown up with great radio voices over the past 50 years. Brian Matthew is one of the great, great broadcasters and God knows who will take his place in the Sounds of the Sixties chair. The music will still be good but without his masterful tone guiding us calmly through the playlist, it will never be the same again. Heaven protect us from some wacky eejit parachuted in to attract 'young people".
What on earth is the problem with leaving Brian Matthew in his job until he decides it is time to leave? After all, he is "an outstanding presenter....a radio legend.....with natural ability, passion and warmth." Not my words (although I agree with them), but the BBC's.
Not only is it a horrible decision, it is stupid and, arguably, ageist. The BBC should hang its head in shame.
I offer Brian Matthew a big salute, good health and a continuing broadcasting career.