A couple of years ago, I attempted a jokey crime story called Belfast Backlash, piling on the humour and wisecracks to disguise the thin plot. Now, a revised version adds more humour and wisecracks and nothing more to the plot in a reasonably tidied up version of the book.
Reaction to the writer and the book:
Agatha Crusty: "Just when you thought "and then there were none", along comes another one."
Saint Patrick: "Jeez, embarrassed to be nearly Irish."
Raymond Chandelier: "Farewell,my genre."
John Buchankiddingme: "Thirty-nine steps too far."
John Le Carrierbag: "Tinker."
Dyke Van Dick: "Diagnosis? Murder!"
The Pope: "There aren't enough prayers!"
The Prime Minister: "I'm setting up an enquiry to investigate the misuse of keyboards."
Donald Trumpet: 'Somebody should build a wall round this guy."
Private Detectives Association: "We know where he lives."
The Queen: "A
quare geg."
The Duke of Edinburgh: "*!$#."
Harry
Ramsden
: "I wouldn't wrap me fish and chips in it."
Norman Bates: "I loved it."
Belfast Backlash stars private investigator Sticky Miller and his resourceful sidekick Limp Donnelly.
Here's the blurb:
Belfast Backlash - A Sticky Miller & Limp Donnelly Crime Story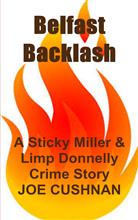 "I was checking off the names of various characters in my head, ticking and crossing as I went through the litany of all those with whom I had come in contact in the previous ten days; Eddie Hennessy, genius and murder victim; John Devlin, rogue, living out his last days in peace; Bog O'Byrne, thug and now motorway bridge support; Brendan Bertram, sweet old man with enough to say and more to tell; Bingo and P.J., idiots on crutches; Joan Jones, a tragic, lost opportunity to be the love of my life; Steffi Ellerbrock, a beautiful surprise out of the blue; Jackie Strong, infamous piece of scum and still to account for his risible life; Dave Robinson and Billy Strong, dead men walking…………" Private Investigator Sticky Miller and his resourceful sidekick Limp Donnelly investigate the death of a poet. In the process, they get involved with gangsters and other shady characters in Belfast and beyond. With little fear of action, no fear whatsoever of puns and a penchant for pontificating, bullets, one-liners and words of wisdom fly in equal measure in this hard-boiled, explosive crime story.
ISBN: 9781786972736
Type: Paperback
Pages: 208
Published: 2 September 2016
Anyone with a note from a responsible adult can buy it here: