Here's a fun poem from my book "The Chuckle Files"
Available here https://www.feedaread.com/books/The-Chuckle-Files-9781784070496.aspx
MAGIC SET
Have you seen my magic set?
I can't find it anywhere,
I've searched under the table,
I've looked behind the chair.
I've rummaged in all the cupboards,
No sign, no trace, no clue,
I mean - how can a magic set
The Chuckle Files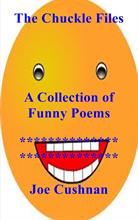 Like my previous volume, Juggling Jelly, some of the poems in this book are funny, some are silly, some are funny and silly....... This is another "pick 'n' mix" selection to amuse in a world that cannot have enough smiles. Whilst the collection is for kids of all ages, it has been compiled with audiences of school children in mind - to involve and entertain creative young minds. Having fun with words and writing poetry - now that's a useful combination.
ISBN: 9781784070496
Type: Paperback
Pages: 97
Published: 14 October 2013
Price: £4.99