I have this ongoing project dubbed "The Da That Never Was" about my father's missing years. It fascinates me to learn new things about him whenever I'm home in Belfast. Little bits of information pop into conversations and I'm thinking: "Why didn't I know that?" Up to this point, I have a sketch of him but not the full picture and the research feels like one of those 1,000-piece jigsaw puzzles only about ten times the size. Some pieces fit together beautifully, some pieces sit alone and unconnected and, no doubt, there will be missing pieces. Still, it keeps me interested.
Here's a link to a Belfast Telegraph feature that explains the background:
I was in Belfast at the weekend to see family and to make an appearance on BBC Radio Ulster's John Toal show. Here's a link to the broadcast: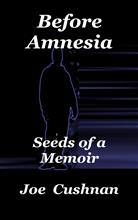 More on this in due course.