Just

like

panto

,

my

annual

book

of

nonsense

resurfaces

,

polished

up

and

expanded

a

wee

bit

-

hilarious

,

oh

yes

it

.......
Jolly Christmas Poems & Jokes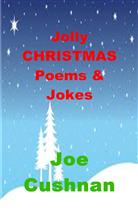 A collection of funny poems and silly jokes about Christmas with lots of ho-ho-ho - like this one: On the first day of Christmas My mother sent to me A pear tree with a partridge in it – And I said: "Just a minute, What am I supposed to do With falling leaves and birdy dooh, All covering the garden path – And what about the aftermath?" The wife comes home with shopping bag, All laden with the Christmas swag Of turkey, trimmings, wrapping paper, Preparing for the Yuletide caper. Off the bus and down the street Firmly trudge her aching feet, Through the gate and up the path, Yearning for a steaming bath. The leaves, the birdy dooh combine To skid her into swift decline And there she sits amongst the mess Of partridge, pears and deep distress.
ISBN: 9781788761239
Type: Paperback
Pages: 138
Published: 16 November 2017
Price: £5.99
Better than Christmas cracker jokes any oul day!