Ah, the smell of the country,
resonates like the farming news at ten,
excrement, fertilizer, manure,
lathered all over the filthy fields,
spread thick like beef extract on baps.
I lift handfuls of it and hold it to my nose,
breathe in the beautiful bovine bouquet,
celebrate the goodness of the soil
before throwing up in the hay.
The Poems Of Hamish Sheaney : Remastered & Expanded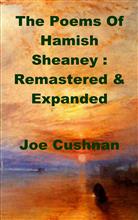 In 2012, I published a book called Hamish Sheaney: The Nearly-Man of Irish Literature. The book began with this disclaimer: Hamish Sheaney may not exist, so it might have been necessary to invent him. Hamish Sheaney might be Joe Cushnan or Joe Cushnan might be Hamish Sheaney. They are never seen in the same room together, but more often than not they are in the same room. Shirt collar, shoe size, dental records and preference for Mini-Cheddars are purely coincidental. The book is still available from www.feedaread.com and via Amazon Kindle. It contains a short biography of Hamish as well as lists of his failed screenplays, literary influences and proverbial wisdom (whizz dumb) quotations. This updated book is a remastered (regurgitated?) and expanded version that concentrates on the nearly-man's specific biographical and observational poetry, and it leaves out the "and other funny stuff". So as not to short-change anyone too much, other poems and witty gems have been discovered in a holdall in Hamish's shed. They are printed here for the first time. Granny Sheaney also makes an appearance with her terse views on life and poetry. Unlike my other books of fun verse - Juggling Jelly, The Chuckle Files, Boxset (Without A Box), etc, this collection is a bit more adult in parts.
ISBN: 9781785100727
Type: Paperback
Pages: 99
Published: 17 September 2014