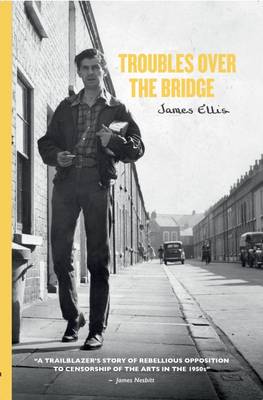 Link to Lagan Press -
http://laganpress.co/
I am more than delighted that James Ellis's account of Northern Ireland theatre's great story of arts versus heels-dug-in, stubborn, agenda-driven authority has finally been launched.
Troubles Over The Bridge, published by Lagan Press at £9.99, is out now and, in my opinion it is essential reading for anyone in any sphere of life who is involved in a David and Goliath confrontation. Anyone in the world of theatre or wider show business would do well to read it.
I am from Belfast, born and raised until, at 22, and I left to pursue a career in retail management. I have always been attracted to creative arts from my home town and, of course, I knew a lot about James Ellis's work. I met him in July 2010. We were contributing to a BBC TV documentary on the life and work of the film star Stephen Boyd. Jimmy and Stephen were friends, although, as actors, they never worked together.
From the moment I shook hands with Jimmy in the lobby of a London hotel, I felt comfortable that we were friends from that moment on. His conversation and his interest in me were apparent from the start. I was starstruck.
Jimmy was very encouraging, urging me to develop my archive on Stephen Boyd into a book. He told me that when the book was close to reality he would like to write a foreword. In a gesture of graciousness and generosity he did just that and I will be forever grateful.
As a thank you for the foreword I took Jimmy and his lovely wife Robina to lunch at a pub near to their home in Lincolnshire. It happened to be Jimmy's 82nd birthday, which made it a bit more special. I think we opted for fish and chips. Robina and I stuck to mineral water and the birthday boy had a large glass of the vino - and why not?
Jimmy told me about his frustrations that his "Over the Bridge" book was being delayed at the publisher. This was 2010. He said that he really wanted the book to be published in his lifetime. Sadly, that was not to be.
After the birthday lunch, we went back to the Ellis home for coffee. Jimmy presented me with a copy of his poetry book Domestic Flight with an inscription -
"For my dear friend and fellow Belfastman Joe Cushnan, with fondest wishes Jimmy Ellis".
Gulp.
Just before his 83rd birthday, I contacted Robina to see if we could meet again for another birthday celebration. Sadly, it was not to be as Jimmy was in hospital, shortly to pass away.
But, after persistence by Robina and son Toto and the support of several sponsors, Troubles Over The Bridge by James Ellis is finally with us.
I'll post the blurb below but after reading it and hearing, in my head, Jimmy Ellis narrating it, it is a phenomenal story of guts that ended up having rewards and consequences.
It was a pleasure and a privilege to attend the book's launch in Belfast on Thursday evening and to meet Robina again and her son Toto. I wish the book every success and urge anyone who remembers James Ellis or who wants to understand a strange period in Ulster Theatre history or who enjoys both serious and lighthearted anecdotes to buy this book and savour it.
FROM THE LAGAN PRESS website:
About the book…
Belfast, 1959: the young
Group Theatre
director
James Ellis
is approached by playwright
Sam Thompson
, who announces "I got a play you wouldn't touch with a bargepole!"
The play was Over the Bridge, Thompson's powerful portrayal of a sectarian dispute in the city's shipyards. After its effective banning by the Group Theatre's board of directors following representations from the Unionist establishment, Ellis resigned from his position as a matter of principle in order to direct the production of the play.
In this book, James Ellis provides a first-hand account of the strong and well-orchestrated attempts to censor Over the Bridge, and how these were overcome, allowing for the eventual staging of a dramatic work that would become a defining landmark in the cultural history of Northern Ireland.

"This is a story that still resonates, the story
of a moment when theatre was made to matter
in a place where, sad to say, that hasn't happened
very often. And when Jimmy Ellis draws you into
the heart of it all again, in his own inimitable voice
and with his own quietly intense passion, you feel
stirred and heartbroken in equal measure."
- David Johnston

"A trailblazer's story of rebellious opposition to censorship of the arts in the 1950s" - James Nesbitt

"A struggle to stage the work of an idealistic
playwright told in a tale bubbling with enthusiasm
and decency as the Artistic Director of a theatre
takes his stand against censorship." - Stewart Love