Here's a fun poem from my book "Juggling Jelly"
Available here: https://www.feedaread.com/books/Juggling-Jelly-9781782994312.aspx
There's not enough jelly on telly,
Surprising as jelly rocks,
Jelly is a big attraction
But there's a lack of it on the box.
To get telly bosses going,
Some ratings winners, I think,
Ideas just keep on flowing:
Are You Smarter Than A Jelly?
I'm A Jelly, Get Me Out Of Here
Tinker Tailor Soldier Jelly
I'll leave the list for telly bosses
To ponder and muse and decide,
I hope there's more jelly on telly soon,
I'll be checking the TV guide.
Juggling Jelly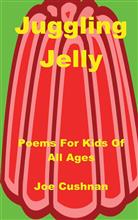 Some of the poems in this book are funny, some are silly, some are funny and silly....... This is a kind of "pick 'n' mix" selection to amuse in a world that cannot have enough smiles. The collection is for kids of all ages and I hope it works for you. CONTENTS: JELLY ZONE: Jelly Science/Clever Jelly/ Jelly Juggling Joe/Juggling Jelly/Chivers Jelly/Jelly, Jelly Everywhere/ Smelly Kelly Who Liked His Jelly/Shake, Rattle & Roll/Jamming/Jelly Twang/Jellyfish Fracas/Jelly Ship/Jelly On The Telly - JELLY-FREE ZONE: Cheesed Off/World Of Funny Noises/Drum Burst/Eyes Tested/Dreaming I'm Poet Laureate/Traction Man/Win Or Loos/Arriverderci Aroma/Nappy Days/Phone Alone/Nostril Damn Us/That's The Spirit/Alien Wish (Fizzlepuff)/True Grit/Hey You!/Nervous Astronaut/Little Lamb/Muffet Fluffed It/Harrowing Experience/Pollywood/ Rainbow Warriors/God's Gift/Clumsy/Leonardo Di Flatcaprio/Clocked/Diagnosis Lost/Best Boy/Dizzy Spinster/My Dog Ate My Homework/Frankly/Mind The Gap/Sweat/Abandon The Keyboard/Caw/Full Stop/Global Census/Settee/Roger Moore's Trousers/The Cameron Daughter Incident/Sluggish/Silent Poem/Three Days/Monster In The Cupboard/Happy Days/Oscar Tame/ Chippy/Bath Water/Trapeze/Sharp/Vampire/TV/On The Font Foot/Runner-Up/End Of A Beastly Week/Naked Truth/There's Smiles In Similes/Purrfect/Well, That's It For Now
ISBN: 9781782994312
Type: Paperback
Pages: 98
Published: 18 May 2013
Price: £4.99